Burmese hair is becoming more and more popular. Many people who love beauty often know this type of hair and love to use it to make their hair more beautiful. This hair type, along with hair extensions from other origins, has become a phenomenon in the beauty world. What has created the heat and popularity for this hair type? Here are the things that make the brand for this hair type.
The definition of Burmese hair
Burmese hair is a famous quality hair, originating from Burma. Most Burmese hair is taken from people's hair, so the quality of the hair is very stable, beautiful, durable, smooth, and shiny. Burma is a wonderful country and area which is located between India and China. Many suppliers, wholesalers, and retailers of hair extensions and wigs around the world are looking for and prefer hair samples taken from Burma. The price of Burmese-origin hair is also quite good, reasonable for its quality. So let's find out the characteristics of Burmese hair.
The characteristics of Burmese hair
First off, let's acknowledge that this hair originates from Burma. Similar to India, ladies in Burma donate their hair to the temples. Their traditions include offering hair in exchange for a better quality of life. The hair is incredibly tough and robust.
If you select such hair solutions, they will suit you better because it is available in straight-to-wavy designs. The hair returns to its natural straight texture after being washed. The hair is sent to Japan, India, China, and other nations for packaging after the hair farmers have collected it. You might realize why the hair is darker in hue if it weren't already obvious. Keep in mind that Chinese and Indians have jet black hair because of their shared genetic structure. There could be a few women having dark hair, though.
Burmese hair is strong, long-lasting, and color-resistant. The flexibility of Burmese hair is well known. The hair can hold a curl extremely well and looks fantastic in its natural form. The hair is entirely virgin mostly in meaning that it has not undergone any type of chemical treatment or other types of alteration.
In actuality, Burmese people solely use natural hair products. Cleaning the haircut with rice flour is one of the most common ways to maintain long, healthy hair. The rice water detox may be done in a few different ways, but we found a simple one and wanted to share it.
It only takes 30 minutes to soak some natural rice in water in a bowl. Rice shouldn't be cooked. Just let the rice sit in the water to soak.
As usual, wash and shampoo your hair. However, utilize the rice water to lock the nutrients in your hair rather than rinsing the conditioner away with regular water. According to legend, rice water promotes growth and eliminates gray hair. Additionally, it helps to prevent dandruff and a dry scalp. Rice water also has the advantage of being applied to the face. It can reduce pores, stop wrinkles, and treat sunburn. Apply the rice water to a cotton ball and dab it on your face as a toner. You can use rice water every day in your daily routine because it is natural.
Some amazing facts about Burmese hair
Justly remunerated: To make sure the Burmese people are adequately reimbursed for their gifts, we collaborate closely with them. In addition, it is because the quality of the hair makes the reputation, that it is necessary to pay an appropriate amount to buy hair for sale or work at a hair salon.
Burmese hair is well known for its diversity in terms of texture. Burmese hair isn't as coarse as Chinese hair or as soft as Indian hair. It's in the center, which is fantastic since the hair takes coloring nicely and keeps a curl beautifully. Therefore, quality Burmese hair is very suitable for hair styling, from straightened hair, and curly hair to dyed hair. These hair samples can help you connect light, and create accents for your hair.
Less Grays: Due to their extensive usage of natural hair care techniques, Burmese residents tend to have fewer gray hairs. Washing the hair using rice water is one way to lessen gray hair and recover the PH balance.
Stronger strands: The hair hasn't ever undergone any kind of chemical processing or modification. The hair will be as nutritious as possible as a result. The hair will survive as long as it is properly maintained because all of the hairline strands are intact.
How to become a Burmese hair wholesale
To become a Burmese hair wholesale, there is no shortage of ways for you to do it. The first thing you need to do is find a source, company, and manufacturer that provides Burmese hair. To do that, here are a few ways you can do it:
– Become an agent and exclusive distributor for the local Burmese hair production company in your area. You need to find a reputable hair factory that has good annual sales and good product quality reviews. You can search through relationships, social networks, beauty forums, e-commerce sites, etc. One thing to note here is that you should find a supplier who has a reasonable price for the product. After that, you can negotiate contracts for mutual benefit.
– Importing Burmese hair from a Burma company: This is very easy to do. You can become a Burmese hair wholesaler after a short time when it is quite easy to contact and find a hair production company in Burma. You need to write a thorough email, expressing your wish to import, fully stating the project, payment method, and delivery address, so the import can take place.
The second thing you need to do is to build your factory and sales base, from which you will have a business base and head office location to increase your credibility. A reputable and quality company is a company with clear documents, that can provide the address where the company was established, and typical orders to build trust for customers. In addition, it also supports the marketing, sales of products, and storage of goods in the warehouse. To get the warehouse of your dreams, you need to find a convenient location, where the roads intersect, convenient for trucks to deliver goods. You can contact reputable real estate brokers to find a suitable company location. Or now the trend of virtual companies is increasingly popular, which provides a reputable address to help companies with the main office address to register their business.
The third thing is that you need to build a perfect, complete, and detailed business plan to orient the right business results you want. Information about previous projects will increase trust. In addition, a team of professional customer care staff will also help the Burmese hair business become favorable. The staff with in-depth knowledge about hair extensions will help solve customers' problems with their hair and can understand customers' insights.
Finally, with a little luck and salesmanship, becoming a Burmese hair wholesaler is easy and within your reach. Sometimes in business, luck can bring your success. It is an amazing thing which is one of the things that every businessman wants to have.
Ruby Hair is one of the Burmese hair wholesalers in Vietnam specializing in providing quality hair extensions and wigs. Besides the hair business originating from Burma, Ruby Hair also provides hair types such as Vietnamese hair extensions, Chinese hair, and Indian hair. The quality of the hair types is highly appreciated by the company's customers and is popular in Vietnam and other countries that import products from the company.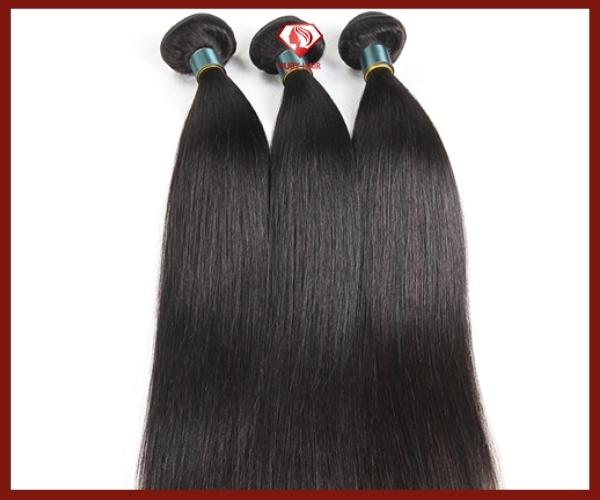 The hair extensions of Ruby Hair Factory
Currently, the company is looking to expand its business abroad, so it has appropriate and attractive policies and conditions for distribution agents and attracts many investors and parties who want to do business in the hair extension segment. The company's main products can be mentioned as virgin hair, remy-hair, non-remy, and blonder hair,… The company's best-selling products are virgin hair and remy-hair.
Hopefully, after reading this section, you have a more reasonable, complete, and successful Burmese hair business plan. Next will be reviews of Burmese hair. Let's explore together!
Interesting things from Burmese hair reviews
In the process of researching the market for hair extensions, and wigs around the world, we read Burmese hair reviews and found interesting things from them.
The first review came from a group of Chinese customers, who said that using Burmese hair gives them a great experience, they have owned beautiful hair without too much care. In addition, others told a joke that your hair is bad not because you don't know how to take care of it, but because you don't know Burma's hair extensions.
Another Burmese hair review reported that people were amazed when I returned from the salon with a new haircut. My new hair makes me more confident and helps me to get the modeling job opportunity that I have always dreamed of. In addition, I also have the opportunity to introduce hair shampoo products to reputable manufacturers.
Some Indian companies dealing in Burmese hair have objectively assessed the quality of the products, they highly appreciate the elasticity of the hair and the shine that this hair type brings. Their customers also highly appreciate the hair extensions that are sourced from the people of Burma. Besides, salons in India have imported many hair models to help their customers have a variety of hairstyles, curls, and colors to choose from.
As such, Burmese hair reviews are all positive, providing great experiences and beautiful hair. Besides, it can be seen that the quality of this hair type is highly appreciated. That is also one of the reasons why it has become so popular and popular all over the world. Here, the article will give some reasons and interesting things that make this product hot.
The things make Burmese hair so hot
The unique characteristics
This is the choice to make if you want the best-fit straight and curly texture with the ideal amount of coarseness. The hair does have the ideal amount of gloss and an outside texture that is soft and silky. The characteristics of Burmese hair make it different from hair extensions from other countries, even if you mix them, it is easy to recognize Burmese hair.
This hair will readily integrate with all types of natural hair because it has the ideal level of coarseness. It even combines well with hair of afro heritage. You'll be able to make it appear as though you're utilizing natural hair.
It Is Available In Various Finishes
You can get it in straight, wavy, curly, or any other hair texture in between, just like with any other wigs on the market. The most popular, however, is long and curly hair since it seems more natural.
It's Just the Perfect Volume
Because of is renowned for having thick strands, this hair instantly adds the ideal amount of volume. It will also produce the perfect and natural bounce that you require. Despite having the ideal weight that came naturally to you, it doesn't feel heavy even if it generates the ideal weight.
The Hair Is Simpler To Take Care Of
Since maintaining hair is simple, you won't need to think too much about it. To increase moisture, all you need to do is maintain it clean and moisturize it. To care for Burmese hair while wearing it, find the appropriate supplies. As mentioned above, Burmese hair care is very easy, and the care process does not take too many steps. Therefore, it will help you save money and time to get beautiful hair.
Thus, hopefully through the article, you will have an overview of Burmese hair and the interesting things around it. If you need advice, please contact us via hotline or live chat on the website. Stay tuned for new posts from us.