Vietnamese hair extensions are a useful tool in helping you become more beautiful and own the smooth, bouncy hair that many people desire. This article will provide useful information about beauty with hair extensions from Vietnam and interesting things about the hair beauty industry.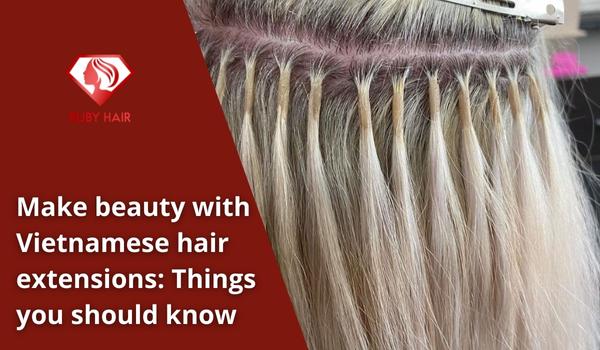 The basic information on Vietnamese hair extensions
In the first part of the article, we will provide basic information about Vietnamese hair extensions, to help you visualize the basic features of this product line.
The definition of Vietnamese hair extensions
Vietnamese hair extensions are a type of hair extension made in Vietnam, in different regions and countries, and the quality of this product is also different. In general, hair extension products when sold to the market have been processed to create the best shape and color to satisfy the needs of customers.
The characteristics of Vietnamese hair extensions
Hair extensions in Vietnam are famous for their shine, natural and strong hair. In addition, Vietnamese hair extensions have many origins that are taken directly from highland women who sell hair, so the quality of the hair is excellent and it is impossible to distinguish between wigs and real hair when conducting hair extensions.
Products are of high quality, so they have been sold and exported to many countries around the world. That makes Vietnam's hair extension brand more and more prestigious and increases its market share in the world hair extension market.
The advantages of making Vietnamese hair extensions
Vietnamese hair extensions bring many great benefits to you including:
Length and weight
In modern times, a lot of actresses change their hairstyle in a few days, they have amazing looks. How they do it, the answer is hair extensions, fine hair, virgin hair, and human hair. In addition, when you accidentally cut your hair too short and regret cutting it, using hair extensions can help you have the desired length of hair without having to wait a long time for hair to grow back. 

Currently, Vietnamese hair extensions have many types including natural hair extensions and synthetic hair, but natural hair extensions are the best, you can add length as well as volume to your hair. Natural hair is intact extensions, which means these hairs don't contain any chemicals and come from a single donor so they won't harm your hair. Hair extensions are another way to restore your hair, allowing you to change your desired hairstyle from short to long, thin to thick, from straight to curly without the need for hair damage. Specifically, you can add the length, volume, and color of your hair. 
The best thing about hair extensions from Vietnam is that they naturally blend into your hair and are easy to remove. If you want to change your style without damaging your hair, use natural straightening hairstyles that make you look beautiful.
Create your new hairstyle
There are many different featured hair extensions, you can choose from a variety of lengths, colors, base sizes, and natural or synthetic hair extensions. Natural human hair is usually of good quality, so this will be a great choice for you as it gives a lot of freedom in styling and you can wash and dye them like your own hair. 
When you use Vietnamese hair extensions, outsiders often can't tell that you are having hair extensions because natural hair extensions are the best as they are long-lasting and will give you an original look. Natural, shiny, and smooth hair will be a great attraction of women to women and the opposite sex, so all women want to have such natural hair but not everyone is endowed with it. genetically. 

Hair extensions are the best way to get such a hairstyle and match your Hollywood hairstyle. Even experts say that natural human hair is the best among extensions.
Low cost but you can own a dream hair
You only have to spend a small amount of money to own yourself thick, shiny, and healthy hair. In particular, you will not have to worry about hair loss or breakage, because Vietnamese hair extensions have good quality and bring satisfaction to customers.
How to make beauty with Vietnamese hair extensions
Maybe you already own a set of Vietnamese hair extensions, but you don't know how to beautify them. Don't worry, below the article will show you the steps to turn your hair into a dream.
Step 1: Find a reputable hair salon and go to the store to get advice from the store staff. The important point at this step is that the salon you choose must have quality hair extensions and highly skilled staff. Besides, it is very important to consult and solve the problem that you are having with your hair, so please ask the staff for careful and specific advice. Hair extensions cannot be done at home with a special glue that is not a hair extension. Therefore, finding a reputable, quality salon is the key to a successful first step in beauty.
Step 2: Choose a hairstyle and hair model that suits your face and body shape and overcome the current disadvantages of your hair. Choosing the right hair extension model is the second most important thing. This should be oriented before you stay at home and go to the salon where you will ask more and ask them to advise if the style you choose is right for you. This will help you make a more accurate decision for this beautiful job.
Step 3: Carry out hair extensions. At this stage, you should relax your body and let the hairdresser conduct your hair extensions. In addition, you can see the meticulous process of the hair extension and evaluate the workmanship of the technician.
Step 4: Evaluate the results, and ask the mechanic to edit when not desired. After completing the hair extension process, you should evaluate and give the points you are not satisfied with to get the best hair.
Some notes when using hair extensions:
Do hair extensions affect real hair?
The answer is yes if you use hair extension techniques such as pencil, wax, or glue braid. Because these types of hair extensions often cause headaches, causing headaches and hair loss. But now, hair extensions salons no longer use these old technologies but replace them with modern FiberGlass hair extensions. Especially will not affect your real hair. Moreover, the FiberGlass technique gives you natural, soft, super-durable hair, you can comfortably sunbathe or swim in the sea without having to worry about losing the joint.
How long do hair extensions take?
To get the beauty you want, the first thing you need to sacrifice is time. And so is hair extensions, workers need a lot of time and ingenuity in every small detail, along with sophistication. So you have to sit from 7 to 10 hours depending on the number of hair extensions more or less.
My hair is too short, can I take hair extensions?
One of the things to know when it comes to hair extensions that you are very interested in is how long the hair can be. Hair extensions experts say: to have hair extensions, your real hair must be at least 10cm long. Because of that, a new connection is sure between real hair and hair extensions. Moreover, the layer of real hair must be relatively thick enough to cover the joints to help the hair not be exposed and look more natural.
How long do hair extensions last?
You should refer to the hair extension care instructions if you want your extensions to last a long period. Depending on how quickly real hair grows, using hair extensions can last anywhere from three to five months. Then, because the long hair would reveal the joint, the hair extension should be taken off and reattached, a procedure known as raising the joint.
How to take care of Vietnamese hair extensions
Here are some ways to help you take care of your hair after hair extensions:
If you've just had a fixed hair extension, for a minimum of 24 to 48 hours, refrain from washing your hair to ensure that shampoo's effects on the new site are minimized. Then, use a shampoo that is silicone- and sulfate-free to massage the hair and joints and remove dirt from the area surrounding the joints. Shampoos with sulfates and silicones can smooth the joint and remove stickiness there. If you use hair clips, clean them after every six to eight applications and dry them on a towel.

You should maintain your hair once per month even though you enjoy creating your favorite hairstyles because curlers and dryers can dry out hair extensions. The conditioner will restore the softness and smoothness of the hair extensions.

Keep the extensions tangle-free by drying your hair thoroughly before bed if you wash your hair at night. If not, the thickness and wetness of your hair will increase the likelihood that your extensions may slip and tangle. Take it off with a clip before bed time.
How to become Vietnamese hair extensions wholesale
To become a Vietnamese hair extensions wholesaler you need to do the following steps.
First, you need to find a reputable Vietnamese hair extensions manufacturer, well-known, with good product quality, meeting most of the insights of customers in your area. That will give your business a better chance to succeed.

After you find the Vietnamese hair extensions factory you want, you will contact them and want to cooperate and become their agent in your country. Thus, you do not have to spend time and money on the production of hair extensions, but your job is to import goods from other companies and check their quality to ensure the order.

During this process, you need to negotiate with suppliers to bring the best interests of both parties so that the cooperation can be long-term and both are sustainable business relationships.

Finally, you proceed to build yourself a warehouse or a hair extension store. You may not need a real physical store because nowadays e-commerce is very developed and helps you to save money on the construction of the premises. To become a Vietnamese hair extensions wholesale, you need to enter a trial order to evaluate the quality and have products to promote your company. Good luck with your Vietnamese hair extensions business.
Tips to buy high-quality Vietnamese hair extensions
On the market, there are many companies, manufacturers, and agents of Vietnamese hair extensions, but not everyone has the same quality of products as advertised. Therefore, your job is to find out and evaluate what is a reputable supplier.
First, you need to understand the quality characteristics of each hair type and understand which hair is the best quality hair. To do this, you need to find out information online, go to the factory, and buy hair extensions to study the difference between different types of hair. If you do this step successfully, you will gradually become an expert in what is good quality hair and what is bad quality hair that needs to be reworked.

Second, through reviews and ratings of people who have purchased products from that company. A Vietnamese hair extensions company sells quality products, the number of reviews, comments, and high recommendations of the product will be high and when you search on google, you will see the results on page 1.

Third, through relationships, you can get advice and suggestions from other business relationships about which company is a company with good product quality. Through relationships, you will have an overview of products in the industry and quality reviews from acquaintances.

Fourth, you can find out and research the market yourself through the Internet, the establishments that sell hair extensions to ask about the origin of the hair they import from. Of course, this takes a lot of time and carries risks because no one will probably tell you their business formula. However, this is an effective way and can test the quality of the product and the customer's preference for that product.

Finally, you can source quality products through social media. A social network is a place where companies and suppliers find their potential customers, they post company information and their best-selling products, from which you will have yourself a synthesis, and analysis of this potential market.
Thus, hopefully, the article will make you feel satisfied and find the answer to your question. If you have any questions, please feel free to contact us.